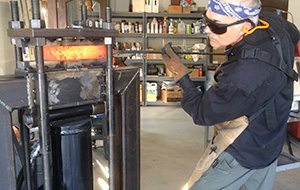 After a 35 year career in Information Technology in Ohio I retired and moved to Colorado to enjoy the outdoors and build my dream workshop.
I have always had a passion for metal art and in 2007 I became fascinated with damascus steel. I've been working to uncover its secrets ever since. To that end I set out to build my own tools including gas forges, hydraulic press, rolling mill, twisting jig, and belt grinders to make damascus knives.
I use carbon steels 1084 and 15N20 for the blades and hard woods such as walnut and maple for the handles. The sheaths are buffalo (American bison) leather.
I am the sole maker of every aspect of my knives.
Member of the Artist Blacksmith's Association and of North America (ABANA) and Rocky Mountain Smiths.
Emiro Uribe